The Leeds Station Sustainable Travel Gateway scheme will see an investment of £46.1 million to significantly improve the station's main entrance and surrounding area. With the number of rail passengers using the station forecast to increase significantly, the works are necessary to meet capacity demands and ensure that people can enter, exit and wait for services safely.
New Station Street will become a much improved and more pedestrian-friendly environment. Service deliveries and emergency service access will continue. The area's appearance and visibility will be improved and a variety of access options provided, including the installation of wider, safer steps outside the entrance of the station and two large passenger lifts.
New cycle infrastructure will promote sustainable active travel, encouraging people to walk and cycle more often and contributing to the Climate Emergency agenda. Accessible benches and seating will improve the environment surrounding the station, helping to create an attractive destination and a modern gateway to the city centre, South Bank and beyond.
The improvements will be delivered by Leeds City Council, in partnership with the West Yorkshire Combined Authority and Network Rail as land owner, via the Department for Transport's Transforming Cities Fund. The works are due to be completed in 2025.
At the same time, Network are carrying out essential maintenance to reinforce the underground structure beneath New Station Street which supports much of the station above it. This essential work means it is necessary to move the taxi rank to Princes Square.
Delivering the two schemes in tandem will lead to less disruption in the long-term and provide value for money, as there will be less need to revisit the Sustainable Travel Gateway Scheme later if further works are required as part of Network Rail's scheme.
To find out more, read our Latest News.
New Station Street closed to through traffic and pedestrians 19 May 2023
As part of the next stage in the transformation of Leeds City Rail Station's main entrance and surrounding area New Station Street will be closed from Friday 19 May to all traffic (except service vehicles and emergency services).
May 19 will also see the northern section of New Station Street, from the station's main entrance towards City Square, closed to pedestrians to allow paving works to be carried out.
For more information about alternative walking routes to and from the station, click here.
Relocation of Leeds City Rail Station's taxi rank to Princess Square 18 May 2023
Due to the closure of New Station Street the stations taxi rank will be moved to Princes Square from 7pm on Thursday 18 May. Network Rail are liaising with private hire and hackney carriage services of the arrangements.
Information about the taxi rank's new location on Princes Square can be found here.
Bus services moved to stops on Boar Lane, Infirmary Street and Wellington Street last year. Details on the new bus stops and how to get to them can be found at: www.wymetro.com/newstationst
Images of the works on completion
The images below are impressions showing how the works could look on completion. Detailed designs are still being finalised and are subject to change.
Pedestrian improvements
The more pedestrian-friendly environment on New Station Street will help people to move safely between the station and the surrounding areas, without having to cross a busy road to get to the taxi rank. The whole of New Station Street is to be pedestrianised, including the section which meets Boar Lane, providing a more pedestrian-friendly route to the relocated bus stops with improved wayfinding, and also creating direct pedestrian routes between the station entrance and the South Bank area which will reduce journey times.
New seating of different types and heights will also be installed on New Station Street, providing different rest areas.
New Station Street will benefit from improved lighting and contrasting floor materials, providing separation between the road and pavement to help people with visual impairments.
New Station Street (at station entrance)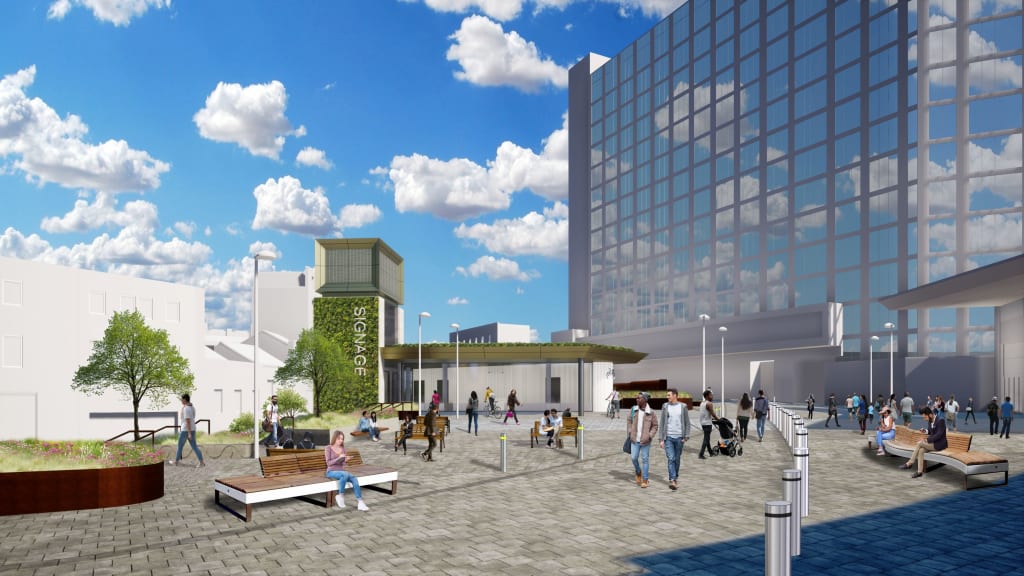 New Station Street (alternative view)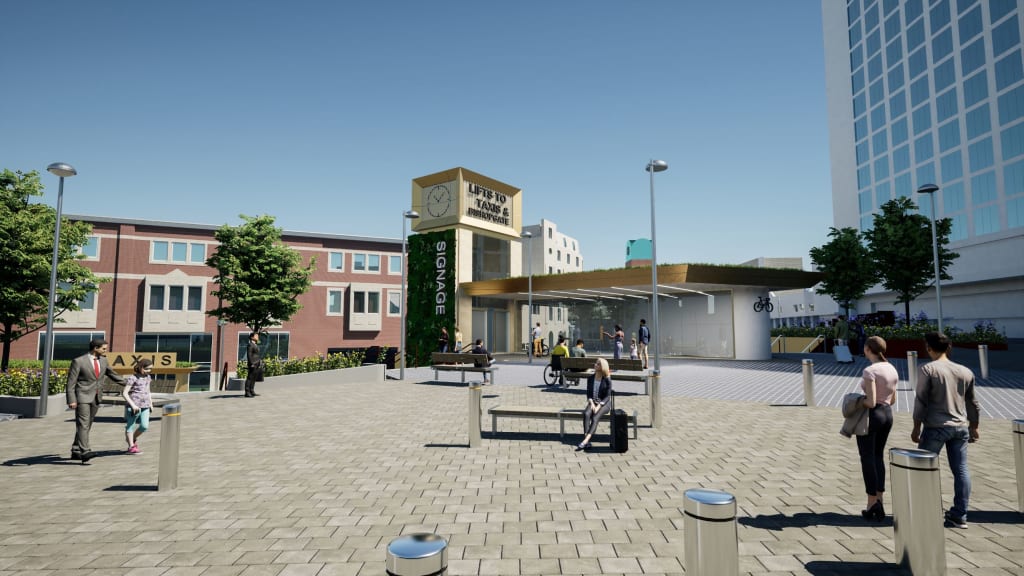 Taxi and bus services
Taxi services will be relocated to Bishopgate Street within sight of the station entrance and can be accessed using the two 21-passenger lifts.
The lifts provide step-free access between Bishopgate Street and New Station Street, and will be spacious enough to accommodate wheelchairs, pushchairs and luggage.
The taxi rank will be well-lit and sheltered, with room for six vehicles. It is designed to allow passengers to access vehicles from the kerbside, which will help people with wheelchairs or assistance dogs to board more easily, as well as those with luggage. A luggage trolley park will be located directly outside of the station entrance on New Station Street.
The new rank will also allow for the front three vehicles to leave at the same time. This will make it easier for passengers to board vehicles, which is more efficient than the existing layout.
The taxi rank shelter will offer seating for 15 people, and at different heights, with sufficient room for wheelchairs to easily manoeuvre.
The new rank will be fed by a feeder rank on Swinegate and Sovereign Street. This will accommodate the same number of taxis as the existing rank, and will allow taxis to feed into the new rank quickly.
Bus services will be relocated to Boar Lane. The walking routes to the new buses stops will be much improved as a result of the enhancements on New Station Street, and will be complemented by comprehensive wayfinding displays both within the Station's northern and southern concourse buildings, and on New Station Street and Bishopgate.
Wayfinding will include city centre maps and key city destinations along with bus stop maps and relevant bus service information, and will be supplemented by a travel app that has been developed by the West Yorkshire Combined Authority and a customer brochure that will provide detailed information on public transport options for passengers leaving the station.
View from Station towards Bishopgate and City Square

Bishopgate (looking towards Neville Street)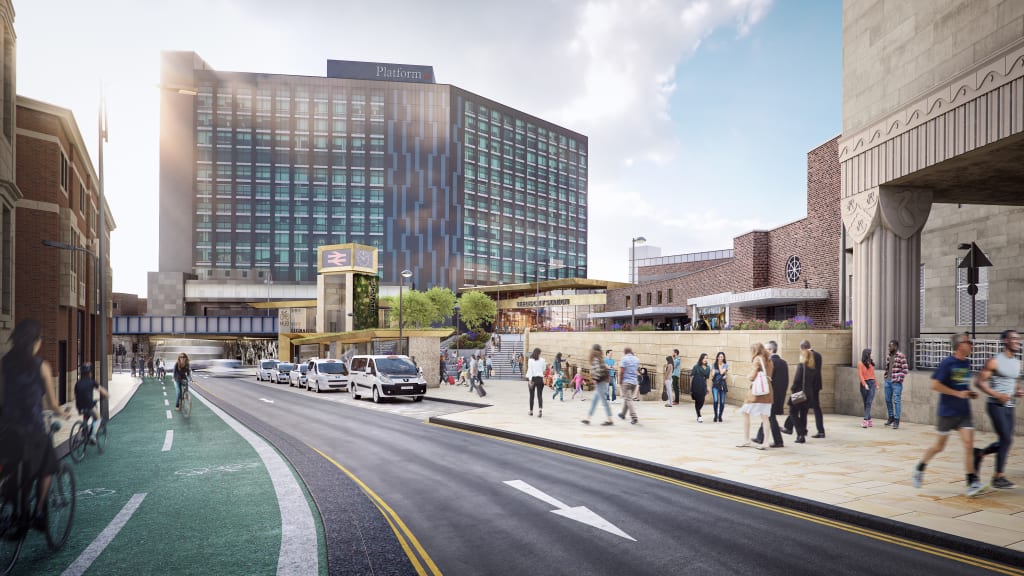 Boar Lane looking toward City Square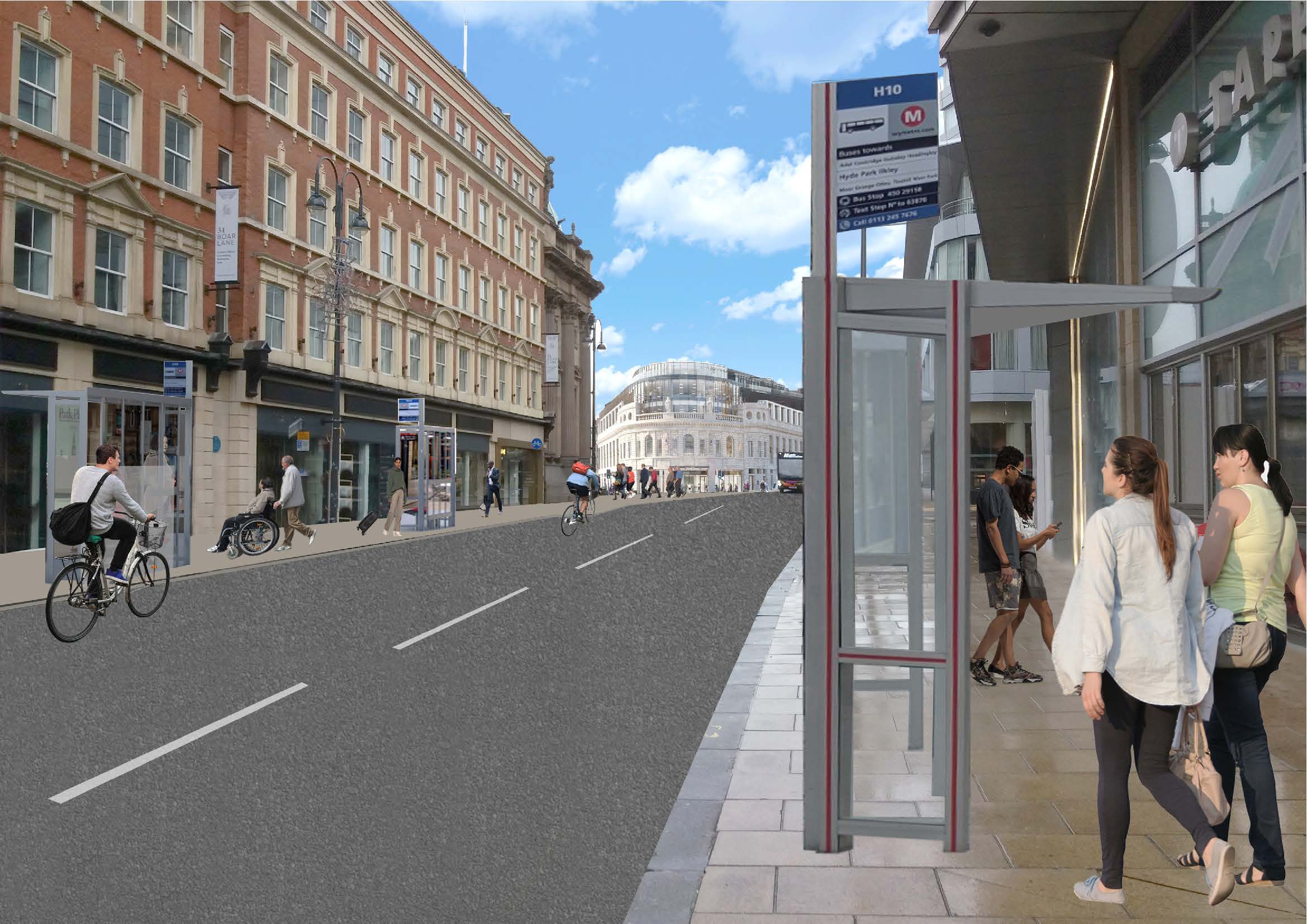 The new layout will include multiple new flights of stairs, which will be specifically built to accommodate large numbers of people during busy periods.
The stairs will also accommodate a bike ramp. The ramp will be placed centrally and be made of contrasting materials.
Stairs from Bishopgate to New Station Street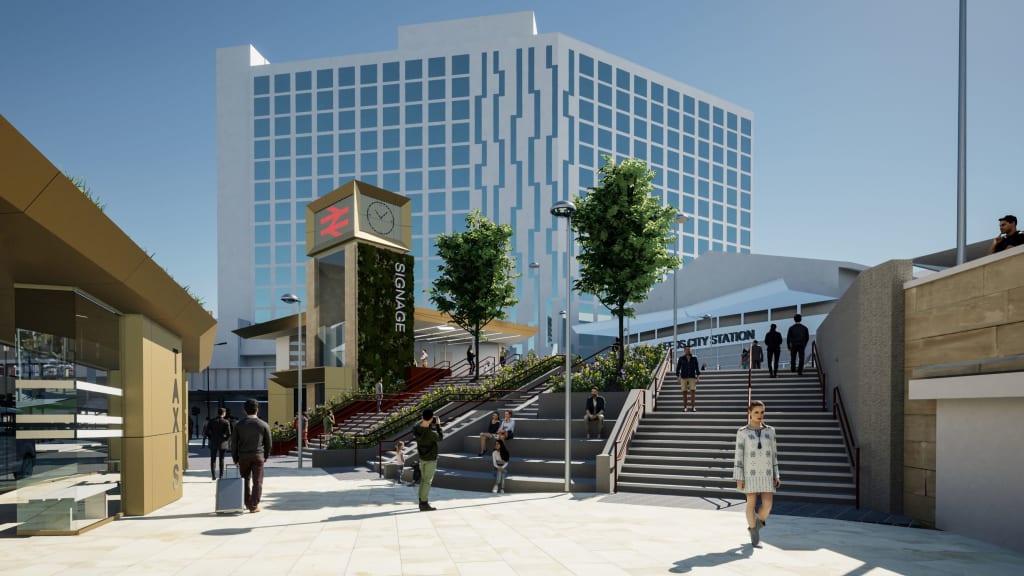 Cycle Hub and cycling infrastructure
High quality segregated cycling infrastructure will be installed on Neville Street, Dark Neville Street and Bishopgate, improving cycling links to surrounding communities while encouraging safe, affordable, sustainable travel.
The station will also be home to a high-quality cycle hub which will include electric charging points and storage for all types of cycles.
Improving cycle links between the city centre and surrounding communities will hopefully encourage more people to choose sustainable methods of transport, while contributing to the Council's Climate Emergency agenda.
Other environmental improvements to Neville Street and Dark Neville Street include enhanced lighting, and road surface / pavement treatments.
Neville Street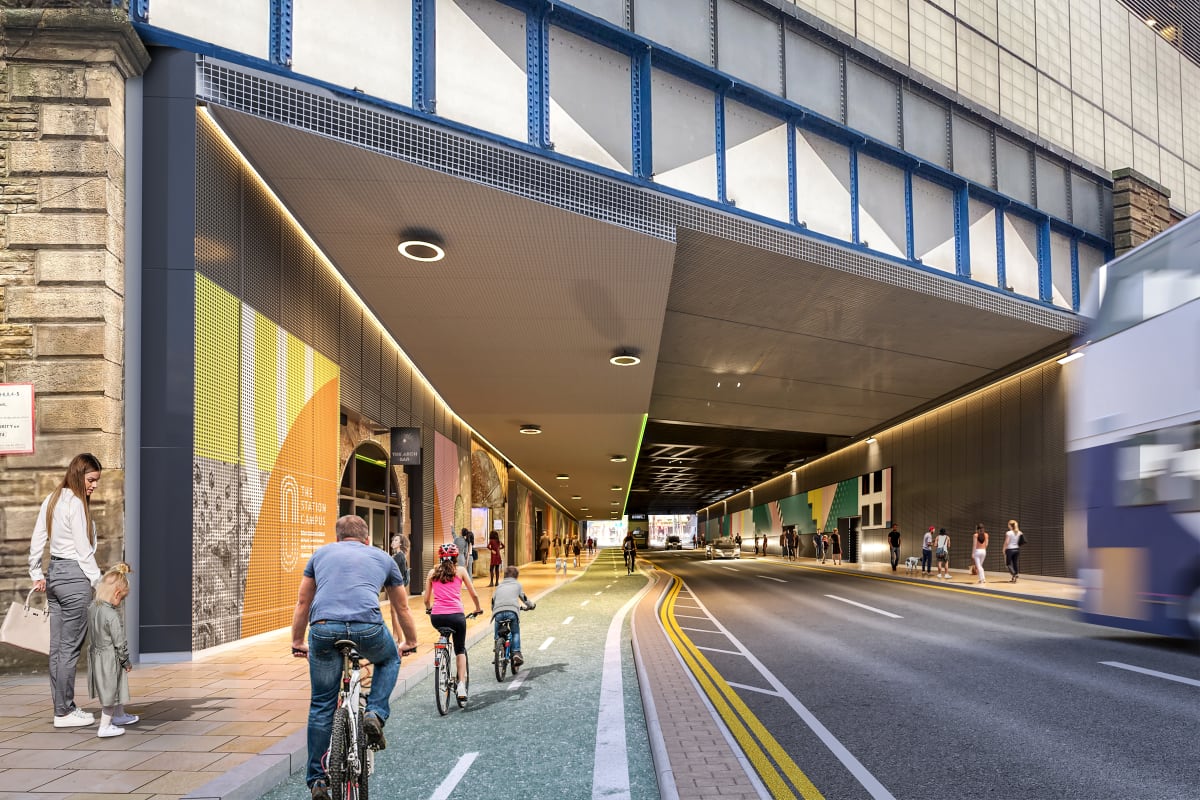 Dark Neville Street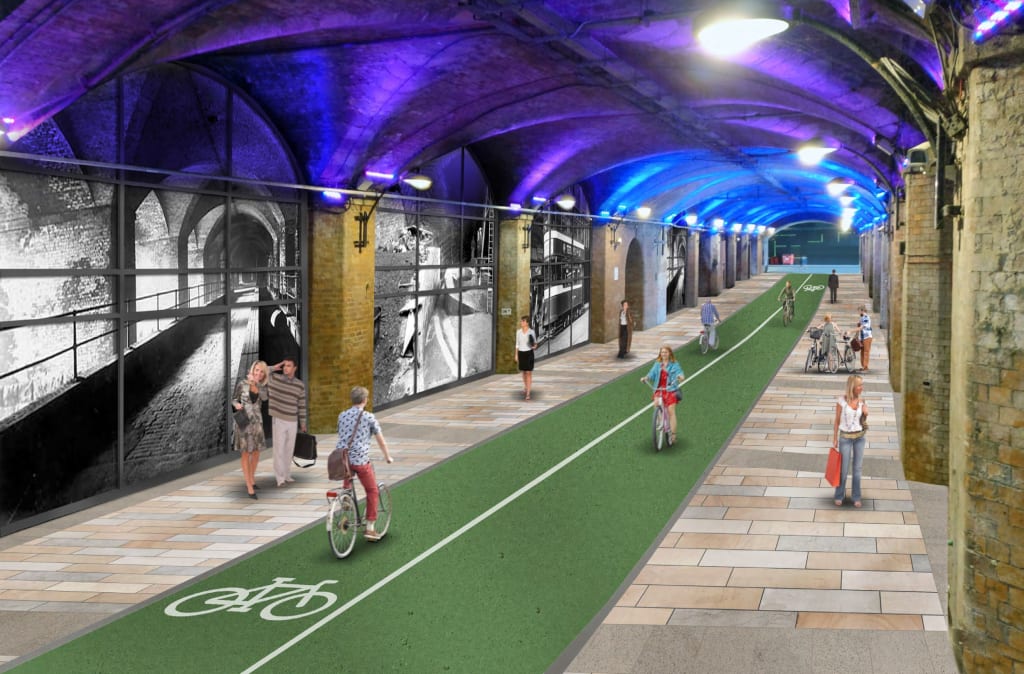 New Station Street (view from Boar Lane)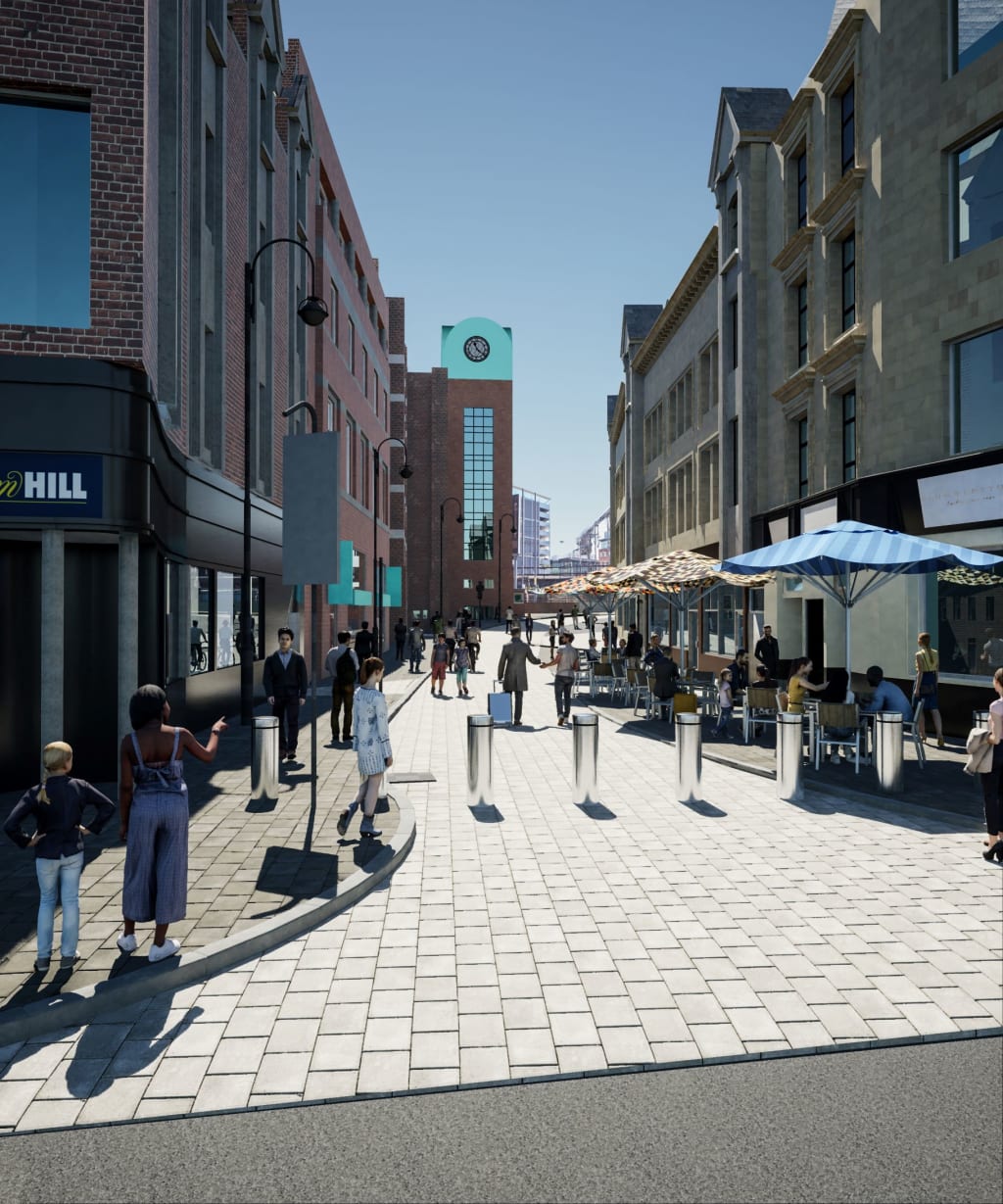 The works are the first stage in the Leeds Integrated Station Masterplan – the vision of Leeds City Council, Network Rail and the West Yorkshire Combined Authority and partners to transform the Station into a world class hub at the heart of the UK's rail network, accommodating current and future demand for rail travel and acting as a catalyst for wider regeneration in the south of the city centre.
To find out more, visit www.leeds.gov.uk/rail .
The Leeds Sustainable Travel Gateway Scheme is being delivered on behalf of Network Rail and has been designed to meet Network Rail's national security standards for the safety of passengers.
Once the works are completed, Network Rail will be responsible for its maintenance.
About the Transforming Cities Fund
These works are being funded by the Leeds City Region Transforming Cities Fund (TCF) - a major new programme of transport infrastructure investment, secured as part of the West Yorkshire devolution deal. Providing an accessible, attractive and cleaner alternative to car journeys is at the heart of the TCF, and it is estimated that its schemes will improve journeys by bus, rail, bike and on foot for up to 1.5 million people, take up to 12 million car trips per year off our roads and reduce CO2 emissions from car travel by up to 15,000 tonnes by 2036.
The Leeds City Region TCF is being delivered by the West Yorkshire Combined Authority in partnership with local authorities and will be funded through £317 million from the Department for Transport (DfT) plus local match funding up to £140 million.